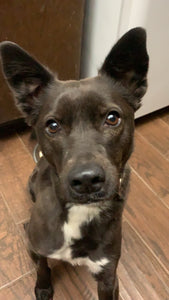 Let's give Angel some extra hugs and kisses!!!
Angel- EDOB 12/11/2019 female basenji mix
Sweet, playful Angel is a very special girl! She had a brain infection as a baby, which affected her eyesight and ability for critical thinking. She has lived her entire life in foster care. She is still looking for that perfect furrever family to love her unconditionally. 
Your donation of love will help pay for her food and supplies so she continue to thrive!  
Thank you for your support!
Find out more by clicking on the link below.